BACK TO SCHOOL MEANS NEW SHOES!
Take advantage of our FREE foot check for all students
Problems with your child's feet could become problems for life if not treated early. Foot conditions have the potential to develop into knee, hip and back pain that can have serious consequences on development and posture. Bones and joints in children are constantly growing and are not fully developed until adulthood.
Every school term there will be some kind of change in growing feet, particularly in the 8-12 age bracket. After the summer break, spent mostly barefoot or in thongs, it's good to remeasure feet and purchase correct fitting school and sports shoes for the upcoming year.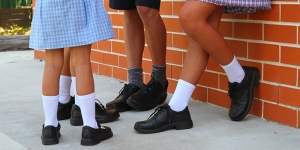 Tips for purchasing shoes at any age:
Choose a store that measures foot length and width to ensure best fit
Buy shoes in the afternoon as the foot may be larger at this time
Always walk around in the shoes at home on the carpet, checking for comfort and tight spots – if any issues develop take them back!
When standing you should be able to wriggle your toes
Ensure the sole of the shoe is firm and bends across the ball of the foot
The material breathes and is flexible/durable
*Wear hand-me-down shoes with caution. An old shoe belonging to someone else will take on their shape and gait, which will not be the same as the new wearer. Buying a new shoe is recommended.
Every year at Total Care Podiatry we have a Back to School Free Foot check event and mid-year a Free Family Foot check event.
Call 5223 1531 for the next event.
THIS INFORMATION IS FOR EDUCATIONAL PURPOSES ONLY AND IS NOT INTENDED TO REPLACE PROFESSIONAL PODIATRIC ADVICE. TREATMENT WILL VARY BETWEEN INDIVIDUALS DEPENDING UPON YOUR DIAGNOSIS AND PRESENTING COMPLAINT. AN ACCURATE DIAGNOSIS CAN ONLY BE MADE FOLLOWING PERSONAL CONSULTATION WITH A PODIATRIST.
https://totalcarepodiatry.com.au/wp-content/uploads/2020/01/Back-to-School-2020-FB-Post-e1578887731330.png
175
200
Total Care Podiatry
https://totalcarepodiatry.com.au/wp-content/uploads/2023/03/logo-dark-300x174.jpeg
Total Care Podiatry
2020-01-13 14:30:54
2020-06-24 11:15:38
BACK TO SCHOOL MEANS NEW SHOES!