ANKLE PAIN
Ankle pain is a common source of foot pain that can be as a result of an acute, one-off trauma injury to the ankle, repeated injury and overuse to the ankle joint and its surrounding anatomy, or also from degenerative changes to the ankle over time. However, there are other reasons as to why you may be suffering from ankle pain.
Ankle pain can also be in different regions of the ankle due to the number of bones that form the ankle joint.
The ankle joint is also known as the Talocrural Joint; formed by the connection between the Fibula (outside leg bone), Tibia (inside leg bone/shin bone), and Talus, a small bone that sits in the mortise shaped socket formed by the Fibula and Tibia. The end of the Tibia (your "inside ankle bone") is called the Medial Malleolus, the end of the Fibula (your "outside ankle bone") is called the Lateral Malleolus. The most common fracture to either of these bones is a lateral malleolus fracture.
General Ankle Joint pain
à Generalised, non localised pain to the whole ankle joint
Common Diagnoses
Osteoarthritis: Cartilage degeneration
Rheumatoid Arthritis : Inflammation to joint lining causing cartilage degeneration
An arthritic joint is frequently noticed by stiffness to the joint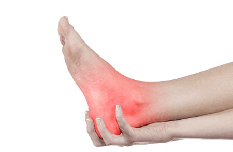 Lateral Ankle pain
à Pain on the outer side of your ankle
Commonly caused by an acute incident, but can be of gradual nature
Common Diagnoses
Ligament injuries (tear or rupture) : Anterior Talofibular (ATFL), Calcaneofibular (CFL), Posterior talofibular (PTFL)
High Ankle Sprain aka Syndesmosis Injury: Ligament injury to Distal Tibiofibular Ligament (ligament connecting your main leg bone/shin bone, to your outer leg bone)
Peroneal Tendinopathy/Tendinitis
Peroneal Subluxation/Dislocation
Fracture : Cuboid, 5th metatarsal "Jones" fracture or Lateral Malleolus
Medial Ankle pain
à Pain on the inner side of your ankle
Usually due to overuse, ie "wear and tear"
Common Diagnoses
Tarsal Tunnel Syndrome or Medial Calcaneal Nerve Entrapment
Tibialis Posterior Tendinopathy
Ligament injury: Deltoid ligament
Flexor hallucis longus tendinopathy
Anterior Ankle Pain
–>Pain on the top of the foot at the front of your ankle joint
Common Diagnoses
Anterior Ankle Impingement
-Often due to Bone Spur formation
-Common in Soccer players or Dancers
-Often intense, sharp pain
Osteochondral lesion at Talar Dome
Tibialis Anterior Tendinopathy/Tendinitis
Extensor Retinaculum restriction/injury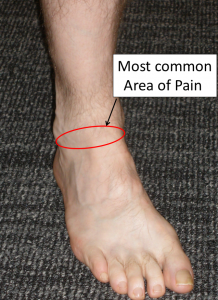 The above information is informative only, see your Podiatrist for a detailed examination to determine what may be the cause of your ankle pain or injury, to diagnose correctly and form a comprehensive treatment plan to get you back and moving!
If you are experiencing pain or discomfort, please call us today for an appointment on 5223 1531
THIS INFORMATION IS FOR EDUCATIONAL PURPOSES ONLY AND IS NOT INTENDED TO REPLACE PROFESSIONAL PODIATRIC ADVICE. TREATMENT WILL VARY BETWEEN INDIVIDUALS DEPENDING UPON YOUR DIAGNOSIS AND PRESENTING COMPLAINT. AN ACCURATE DIAGNOSIS CAN ONLY BE MADE FOLLOWING PERSONAL CONSULTATION WITH A PODIATRIST.
*Sources
https://orthopaedia.com/page/Anatomy-of-the-Foot-Ankle
https://www.completepaincare.com/patient-education/conditions-treated/ankle-pain/
https://www.physiocheck.co.uk/condition/4/lateral-ankle-ligament-injury
https://www.physioroom.com/injuries/ankle_and_foot/tibialis_posterior_syndrome_full.php
https://totalcarepodiatry.com.au/wp-content/uploads/2021/06/Rolled-ankle-pain.jpg
980
1000
Total Care Podiatry
https://totalcarepodiatry.com.au/wp-content/uploads/2023/03/logo-dark-300x174.jpeg
Total Care Podiatry
2021-08-02 10:30:36
2021-05-26 16:40:52
ANKLE PAIN ~ Check out our latest blog for more information!