What runner is suited to my foot size and shape? 
The choice we make in deciding on an appropriate pair of runners for walking or running can be made in relation to many features of our feet.
First and foremost to address is the size and shape of our feet. 
Our feet can change in size or length, shape and width across the time of our lifespan, including as you age. 
So it is important to get your size and width remeasured each time or every second time you get fit for shoes. 
Here are my top tips for fitting shoes to feet of all shapes and sizes!
A rule of thumb- test that you have one thumb's width of airspace compressible just beyond your longest toe in a shoe. 
This allows for the change in size to your foot: 
-When you are more active as your foot slides forward in a shoe
-When your feet swell up during physical exercise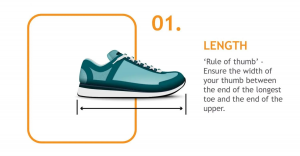 Source: https://www.blister-prevention.com/optimal-shoe-fit/
NARROW FEET
–> Ensure the fit of your shoe is secure through the heel and ankle, snug through midfoot and be cautious not to overpull laces too tight across the forefoot as we do require some wriggle room for any foot shape at the toes. 
-The sole or platform of the shoe in a curved last shape may assist to contour your midfoot as visible below
-In runners and some dress shoes, for women this means a 2A width (Narrow) and for men in very select shoe styles this means a B width (Narrow). 
-Note that regardless of a shoe's stated width, some shoestyles may fit more narrow than others-speak to your trusted footwear professional instore for any particular shoe styles that suit!
Some of my favourites are:
Asics Gel DS Trainer 

Asics Glideride 

Brooks Ravenna

Brooks Transcend 

Brooks Adrenaline 2A (or B Width for mens)

Asics GT 2000 2A Width (or D width for mens fits more snug) 

Nike Pegasus 

Mizuno Wave Rider (fits very generously through the forefoot though)

Saucony Guide (fits very generously through forefoot though)

Brooks Levitate 

New Balance Fuel Cell Prism 

Brooks Glycerin 17 

Hoka Clifton 
Lacing technique tip: Lock lace by use of the extra eyelet at your ankle to secure heel and ankle into back of shoe, hugging a narrow heel and preventing slipping around inside. You can always ask your Podiatrist how to lock lace at your next appointment! There are other techniques available for narrow feet. 
WIDE FEET or feet with Bunions
–> It's simple-ensure a wider fitting shoe! If you're not sure when trying shoes on, compress the sides of the shoe on your foot and if you feel tightness or bony prominences-always if in doubt-go wider!
-The sole or platform of the shoe being wider also helps ie a straight lasted shoe such as visible below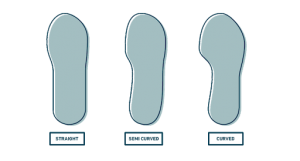 Source: http://hub.therunningworks.net/running-shoes-everything-you-need-to-know/
Bunions are a change in alignment of our 1st or 5th Metatarsophalangeal joint that over time can create painful bony prominences to both sides of our forefoot. Excessive pressure to this joint deformity caused by narrow shoes can exacerbate the deformity and pain associated. 
It is most helpful upon fitting a shoe to test with your hands by compressing the sides of the shoe. The best case scenario is that there is an air bubble of space surrounding your bunion. 
In runners and some dress shoes, for women this means a D width (Wide) or 2E width (Extra Wide) 
For men this means a 2E width (Wide) or 4E width (Extra Wide) 
Some of my favourites are:
Brooks Dyad or Brooks Addiction 

New Balance 940 

Saucony Echelon

Asics Fortitude 8 

Asics Gel Pursue

Asics GT 4000 

New Balance 880

New Balance Fresh Foam Moar 

Mizuno Wave Inspire D/2E Width (good for forefoot width) 

Hoka Bondi D/2E Width

Hoka Gaviota 
Lacing technique tip: Start the shoe lacing from the 2nd eyelet from the front of the shoe, skipping the first to ensure the tightest point of fit is not across your bunion joint region. 
BROAD FEET, HIGH ARCHED FEET or feet with ORTHOTICS
–> Ensure adequate shoe depth
This will prevent: 
-A feeling of tightness or restriction across the top of your foot when you tie up the laces or fixate your shoe closed
-Heel slippage-commonly occurs in shoes that are too shallow to fit an orthotic. 
TOE DEFORMITIES and TOE ALIGNMENT
The toebox of a shoe in a closed toe shoe is the area encompassing all your toes. 
Some brands like Frankie 4 stock shoes with various toe box shapes to suit different toe alignments.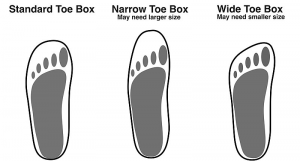 Source: https://commons.wikimedia.org/wiki/File:Toe_box_size.jpg
Tips:
-Ensure adequate shoe depth and width in the "toebox" of the shoe
i.e.  Avoid pointed toe shoes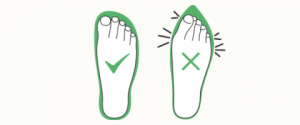 Source: https://www.somfootwear.com/blogs/news/wide-toe-box-shoes
This will prevent: 
-Pressure to the tops of claw or hammer toes, to prevent further deformity, pain, callous or corn formation. 
-Prevent interdigital pressure between toes and the formation of bunions. 
If you are experiencing pain or discomfort, please call us today for an appointment on 5223 1531
THIS INFORMATION IS FOR EDUCATIONAL PURPOSES ONLY AND IS NOT INTENDED TO REPLACE PROFESSIONAL PODIATRIC ADVICE. TREATMENT WILL VARY BETWEEN INDIVIDUALS DEPENDING UPON YOUR DIAGNOSIS AND PRESENTING COMPLAINT. AN ACCURATE DIAGNOSIS CAN ONLY BE MADE FOLLOWING PERSONAL CONSULTATION WITH A PODIATRIST.
https://totalcarepodiatry.com.au/wp-content/uploads/2021/03/Runner.jpg
480
480
Total Care Podiatry
https://totalcarepodiatry.com.au/wp-content/uploads/2020/04/TCP-Logo-with-ByLine-300x178.jpg
Total Care Podiatry
2021-05-08 10:00:58
2021-06-09 10:42:24
WHAT RUNNER IS SUITED TO MY FOOT SIZE AND SHAPE?