FEET AND ANKLE INJURY FREE -WHILST SMASHING OUT HIIT SESSIONS
Due to the nature of HIIT (high intensity interval training), certain stresses may be placed on the feet and ankles, especially if this is a new form of exercise for you.
It is important to build the strength in your legs prior to engaging in HIIT training, as movements are often rapid and repetitious. It can place excessive pressure on your joints if your HIIT workouts are too frequent, and you do 'too much too soon', like many other activities. There are specific modifications that your trainer may be able to suggest if you have any concerns. Correct technique is crucial, so it is necessary for you and your trainer to be on top of this, to avoid injury.
Should you develop an injury, seek medical advice as soon as possible.

Be sure to wear appropriate footwear. When buying athletic footwear for your HIIT workout, stick with a 'neutral' shoe, unless it has been otherwise suggested by your health professional.
The shoe should have a firm heel counter (doesn't fold right down if you try to push it with your fingers). The shoe should have a moderate amount of cushioning (without it being too heavy), for good shock attenuation to reduce the amount of force on the feet and legs. The softer the outer sole however, the faster it will compress, which we want to avoid.
If you do not feel as you are being adequately 'supported' or have enough cushioning, try altering your footwear. If this doesn't change anything, there may be other things that your Podiatrist can manage or educate you with.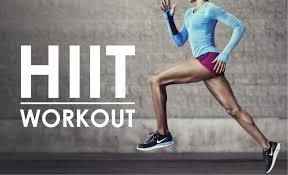 THIS INFORMATION IS FOR EDUCATIONAL PURPOSES ONLY AND IS NOT INTENDED TO REPLACE PROFESSIONAL PODIATRIC ADVICE. TREATMENT WILL VARY BETWEEN INDIVIDUALS DEPENDING UPON YOUR DIAGNOSIS AND PRESENTING COMPLAINT. AN ACCURATE DIAGNOSIS CAN ONLY BE MADE FOLLOWING PERSONAL CONSULTATION WITH A PODIATRIST.
https://totalcarepodiatry.com.au/wp-content/uploads/2020/05/HIIT-PIC-with-ball-in-lunge-edit.jpg
420
470
Total Care Podiatry
https://totalcarepodiatry.com.au/wp-content/uploads/2023/03/logo-dark-300x174.jpeg
Total Care Podiatry
2020-05-20 10:32:27
2020-06-24 11:15:33
FEET AND ANKLE INJURY FREE -WHILST SMASHING OUT HIIT SESSIONS