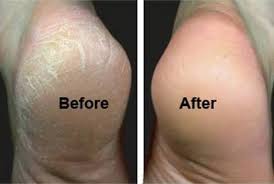 Cracked heels can occur as a result of the skin on the heels becoming very thick, dry and hard. The callous formation can crack, creating splits called fissures. The skin bordering the callused area may appear red and sore.
What are the most common problems with cracked heels
Cracked heels form gradually over a period of time and when any of the associated callous becomes too thick it can be very uncomfortable for you to stand and walk on. You may also experience pain as a result of increased pressure from unequal weight distribution and callous. Altering your style of walking due to pain may also cause other problems to occur.
How do these problems arise?
There are a number of things which may lead to you having cracked heels:
Wearing open backed shoes with no socks
Walking around barefoot
Skin conditions
Wearing synthetic material on the feet
How can they be treated?
Moisturising the heels daily.
Gently filing the heels with a foot file once – twice a week.
Limiting the period of time you spend barefoot.
Heel callus can be painlessly removed by a podiatrist. This can often help it to be managed much more easily at home through routine moisturising and filing.
When should they be checked by a podiatrist?
Cracked heels should be seen by a Podiatrist as early as possible so that the thickness of callous may be reduced and the underlying causes can be treated.
How can Total Care Podiatry help you?
At Total Care Podiatry, we can tailor a treatment plan which is specific to your needs in order to reduce discomfort related to your calloused and/or cracked heels.
https://totalcarepodiatry.com.au/wp-content/uploads/2020/01/Cracked-heels.jpg
184
274
Total Care Podiatry
https://totalcarepodiatry.com.au/wp-content/uploads/2023/03/logo-dark-300x174.jpeg
Total Care Podiatry
2020-01-20 12:10:03
2021-06-10 14:40:25
CRACKED HEELS? WHY….