Fisiocrem is a topical pain relief gel that you can rub into your skin to temporarily ease muscular aches. Used on muscle and joint injuries such as muscle tears and sprains such as ankle sprains.
So it's used like you would use deep heat, tiger balm and the like.
You get no yucky residue on the skin after applying and the scent and feel of it is not too intense & smells fresh!
Fisiocrem has natural plant-based ingredients in it like Arnica, Hypericum (more commonly known as St John's Wort) and Calendula.
While we often prescribe Fisiocrem when people are recovering from injuries, there are other uses for Fisiocrem too. Once your pain has relieved, there's no need to put your Fisiocrem in the cupboard to be forgotten about!
Extra uses for your Fisiocrem:
Post work out soreness
Nothing feels as good as smashing out a gym workout! But the thought of walking the stairs the next day after 1000 squats? No thanks! Sometimes DOMS (delayed onset muscle soreness) can be a real pain! Have you considered Fisiocrem to get you through those post work out feels? Fisiocrem is popular with athletes, helping them to recover so they can continue to train hard.
Arthritis
Calendula is known to help with inflammation. Arthritis is an inflammatory condition of the joints and effects many people. Fisiocrem can be a nice addition to medications, especially when the pain is debilitating. Rubbing Fisiocrem into affected joints may help with temporary relief of arthritic pain, so you can get on with your day.
Bruises
Fisiocrem has the active ingredient Arnica in it. There has been some research to suggest that applying a topical cream with Arnica in it may help reduce bruises. With the combined ingredients of Calendula, the pain of bruising may be also be reduced quicker!
Stress
When you're feeling stressed you might notice your shoulders creeping up to your ears. Massaging some Fisiocrem around the shoulders and the neck can help you take a moment to relax.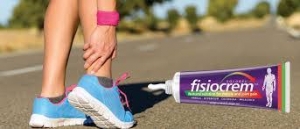 Total Care Podiatry stocks Fisiocrem in 2 sizes 120g $25.00 &  60g $17.50
Drop in and see the team at 209 Malop Street Geelong or call 5223 1531 for more information
THIS INFORMATION IS FOR EDUCATIONAL PURPOSES ONLY AND IS NOT INTENDED TO REPLACE PROFESSIONAL PODIATRIC ADVICE. TREATMENT WILL VARY BETWEEN INDIVIDUALS DEPENDING UPON YOUR DIAGNOSIS AND PRESENTING COMPLAINT. AN ACCURATE DIAGNOSIS CAN ONLY BE MADE FOLLOWING PERSONAL CONSULTATION WITH A PODIATRIST.
https://totalcarepodiatry.com.au/wp-content/uploads/2021/01/fisiocrem-250ml.jpg
367
367
Total Care Podiatry
https://totalcarepodiatry.com.au/wp-content/uploads/2023/03/logo-dark-300x174.jpeg
Total Care Podiatry
2021-05-01 10:00:52
2021-04-07 13:27:22
FISIOCREM ~ What is it?