One of the most commonly asked questions in our monthly paediatric clinic is around what footwear is most appropriate for children. Before offering our advice, we like to point out that the brand doesn't matter – what is more important, and more cost effective for you, is to be equipped with what to look for in the shoe features, to alleviate the stresses of shopping for children's shoes!
FIT: 
Have the shoes fitted professionally at a footwear store – this is important because the fit of a child's shoe will largely dictate the comfort and ability to move without pain – crucial for development! We recommend they be re-checked every 3-6 months to ensure there is still about a thumb distance between the end of the shoe and the longest toe (this may be the 2nd), and that the width is still appropriate. 
FASTENINGS: 
They should have adjustable fastenings to make sure the shoe stays firmly on the foot when they're running around. It doesn't matter if it's Velcro, laces or straps – ideally something that your child can adjust themselves. 
THE SOLE (SHOE LAST): 
This refers to the bottom of the shoe – assess the shoe and ensure that it is more straight than curved. Often adult shoes have more of a curve than children's shoes. 
THE BEND (FLEX POINT): 
When holding the shoe, fold it so that the shoe bends – shoes should bend at the flex point of the toes – not in the middle of the shoe. 
If you are unsure about how appropriate your child's shoe is for them, or if they have any lower leg or foot concerns – give us a call.  It may be worthwhile for you to bring your child to our monthly paediatric clinic for up to 6 years old or to one of our back to school and family foot check events for school aged children. Call us on 5223 1531 for dates.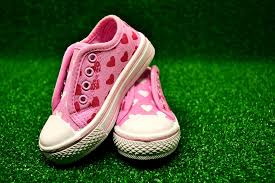 THIS INFORMATION IS FOR EDUCATIONAL PURPOSES ONLY AND IS NOT INTENDED TO REPLACE PROFESSIONAL PODIATRIC ADVICE. TREATMENT WILL VARY BETWEEN INDIVIDUALS DEPENDING UPON YOUR DIAGNOSIS AND PRESENTING COMPLAINT. AN ACCURATE DIAGNOSIS CAN ONLY BE MADE FOLLOWING PERSONAL CONSULTATION WITH A PODIATRIST.
https://totalcarepodiatry.com.au/wp-content/uploads/2019/11/kids-shoes1.jpg
301
480
Total Care Podiatry
https://totalcarepodiatry.com.au/wp-content/uploads/2023/03/logo-dark-300x174.jpeg
Total Care Podiatry
2019-12-16 09:15:41
2021-06-10 15:18:02
FOOTWEAR FOR CHILDREN