Footwear Features in running shoes for common foot conditions and pathologies
It is crucially important that we have a shoe that supports our feet in the right way and suits our personal needs and activity requirements. and no, by support this does not just mean arch support!
Our personal needs are not limited to our foot type and gait but include our injury history (both specific to the foot and upper body), our preferences based on previous shoe experiences, and the use of orthotics or other mechanical aids such as AFOs or Heel Lifts.
If you are doing a lot of activity for your occupation or lifestyle that involves walking or weightbearing, a pair of running shoes is a key shoe to have in your rotation due to its technologically advanced foam composition in the sole to provide a cushioning system to absorb the impact of your body weight as well as it's stability features. Some of the features explained below for running shoes can also be replicated in other suitable, more formal footwear.
REARFOOT AND MIDFOOT PAIN
Such as…
ACHILLES PAIN
Commonly, avoid flat, thin soled shoes. A flatter soled shoe will stretch the achilles to its maximum and apply significant tension to the calf muscle, which if already inflamed will aggravate under this environment significantly.
So, ensure a high heel height (that is, the heel height, aka HHD or heel pitch is higher in reference to the thickness of the shoe sole at the forefoot). This does not mean wear high heeled shoes, but it does mean go for a pair of runners with at least a 12mm heel height differential. (Standard HHD is 10mm).
HEEL PAIN
Our heel, also known as our calcaneus, is essentially our first point of contact with the ground in most cases hence rarely gets a break. Plantar heel pain is a common condition that is exacerbated by excessive pressure to the heel and hard surfaces. Common conditions such as Plantar Fasciitis may be assisted by the following tips:
Commonly, avoid flat, thin soled shoes. Try a higher heel height in your shoes to offload pressure from the heel and create distance between the ground/hard surface you are walking on.
Most importantly, go for a premium cushioned shoe! Despite advertising's best efforts, comfort wear shoes such as Sketchers are made up of a foam that does not last a long time with our body weight's load and will compress, losing its structural integrity and shock absorption capacities.
Premium cushioning is best met with a running shoe using an EVA or Polyurethane foam composition, which has much more elastic or "spring back" energy to absorb your impact and ease strain to the heel.
ARCH PAIN
To relieve pain on our arch, shoes cannot specifically relieve pain.
However, a shoe with a more rigid density foam reinforced to the inside arch of the shoe will support the arch, which may reduce the potential of the foot to excessively pronate (roll in), given that sometimes excessive pronation can place greater strain on our arch and be one of the contributing factors to arch pain.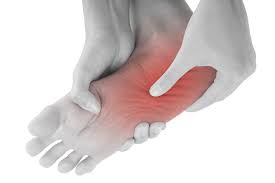 Caution: If your arch pain is quite tender and inflamed, a shoe with a significant density to the arch in initial stages may aggravate symptoms.
ANKLE PAIN & INSTABILITY
Ankle joint recurrent instability issues can be due to a number of causes. If your joints are hypermobile this can extend your joint's motion to a range further than it should ie a maximum inversion ankle sprain. If your ligaments are loose, worn from previous injury or stretched over time; they will allow greater movement hence not protecting the joint from entering a risky range of motion.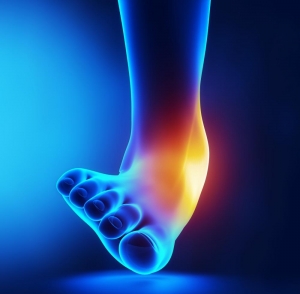 Essentially, our shoes need to reduce motion laterally to the ankle joint! The bad news is, there are very few shoes that automatically are able to do this.
Important features that can help combat excessive motion by providing stability are:
Rigid last-the platform or sole of the shoe should be rigid and only bend at the toes. This means no Sketchers, "Nike Free Runs" or other shoes that simply fold in half (give your shoes the test today!). A flexible shoe has too much give to it, and will collapse and compress laterally underneath your body's natural movement pathway, especially if your muscles and ligaments are weak and quite prone to ankle sprains/rolls.
Wide last-a wider last or shoe that has a lateral rearfoot flare ie flared shape of the shoe sole at the rearfoot section of the midsole/shoe sole, will allow greater total surface area contact with the ground, enhancing your balance and proprioception (awareness of your foot's contact with the ground) hence enabling you to react more easily and more quickly if you roll your ankle.
FOREFOOT PAIN
Cushioning or added thickness to the forefoot section of the shoe sole will take pressure off an inflamed forefoot.
Adding a gel full length insole to your shoe is a second way to add shock absorption to the area to ease pressure from the ground up
Such as….
MORTON'S NEUROMA
-Wide fitting shoe in the toebox is crucial. Also try a loose fitting material. No pointed toe shoes!
Compression to either side of the forefoot either by a tight shoe material or simply a shoe that is too narrow will squeeze the inflamed nerve and elevate symptoms.
BUNIONS
-A wide fitting shoe is important, but did you know, a wide last in a shoe is also helpful?
Put simply, the platform or sole of your shoe should ultimately be slightly wider than the extent of your bunion's bony prominence, as should the mesh have some airspace surrounding the bunion.
A wide last can also be attained by going for a pair of runners with a flaring to the outsides of the forefoot section of the shoe midsole/sole.
*RESOURCE – The bunion institute
1ST METATARSOPHALANGEAL JOINT OSTEOARTHRITIS
-Big toe joint sore and not as mobile as it used to be? Consult your Podiatrist for an appointment to discuss this. You may have Osteoarthritis in your big toe joint (this is the joint at the "knuckle" of your big toe, not the joint that bends the tip of your toe).
-Try a shoe with a rocker bottom or a very rigid sole (aka a shoe with a sole that bends minimally at the crease of the forefoot where a shoe normally bends for your toes). Reducing excessive motion at a joint with already limited motion is likely to help relieve osteoarthritic joint pain. Brands include: Hoka, New Balance, Asics, Chung Shi
LOWER BACK PAIN
Posturally, lower back issues can be aggravated by a higher heel on a shoe.
A shoe with a relatively neutral heel height or low heel height may put less strain on the posterior chain of the body. Consult your upper body health professional for further advice on your specific lower back condition as our spinal column is one with a multitude of anatomy and lower back pain can mean many things! Some people find symptoms alternatively alleviated with a slight heel.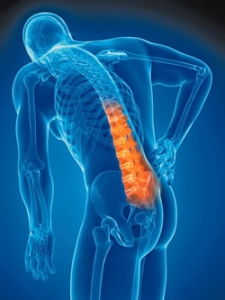 Still unsure? Book in an appointment with your Podiatrist to have a Footwear Assessment and we can help you narrow down the most suitable shoes for your feet. We also have a number of partnerships and connections with shoe stores and shoe brands local and afar, to which we can direct you to their friendly teams for a new pair under our advice!
Phone our friendly front desk team today to make an appointment PH: 5223 1531
THIS INFORMATION IS FOR EDUCATIONAL PURPOSES ONLY AND IS NOT INTENDED TO REPLACE PROFESSIONAL PODIATRIC ADVICE. TREATMENT WILL VARY BETWEEN INDIVIDUALS DEPENDING UPON YOUR DIAGNOSIS AND PRESENTING COMPLAINT. AN ACCURATE DIAGNOSIS CAN ONLY BE MADE FOLLOWING PERSONAL CONSULTATION WITH A PODIATRIST.
https://totalcarepodiatry.com.au/wp-content/uploads/2021/05/running-along-pier-at-seaside.jpg
565
848
Total Care Podiatry
https://totalcarepodiatry.com.au/wp-content/uploads/2023/03/logo-dark-300x174.jpeg
Total Care Podiatry
2021-05-15 10:00:46
2021-04-15 11:38:45
FOOTWEAR FEATURES IN RUNNING SHOES FOR COMMON FOOT CONDITIONS AND PATHOLOGIES