A FORMER English football international won't be rushing onto the field any time soon after a horrifying incident on holidays in Africa.
IT'S hard to imagine a worse way to wake up than catching a rat eating your foot.
Unfortunately for Tottenham legend Gary Mabbutt, the nightmare became a reality while on a safari in South Africa.
The 57-year-old woke to find his bed covered in blood and severe damage to his foot after the horrific incident at Kruger National Park in South Africa.
Astoundingly, Mabbut claimed he couldn't feel the rat chowing down on his toes due to a long career in football and type 1 diabetes.
Mabbutt, who played 16 matches for England, was rushed home for treatment following the incident six weeks ago.
"Unfortunately, due to the injuries through my career and having diabetes — I have very little feeling in my feet," he told BBC Radio Live5.
"So I've gone to sleep and during the night a rat has come into the bedroom, climbed into the bed and decided to chew on my foot.
"It made quite a big hole in my toe going down to the bone and ate underneath my foot so it became infected.
"I then got home quite quickly and I was in hospital for a week and that was about, crikey, about six weeks ago now."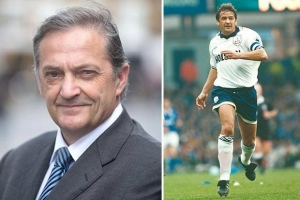 https://totalcarepodiatry.com.au/wp-content/uploads/2020/07/Rat-picture.jpg
300
400
Total Care Podiatry
https://totalcarepodiatry.com.au/wp-content/uploads/2023/03/logo-dark-300x174.jpeg
Total Care Podiatry
2020-07-15 09:29:40
2020-07-15 09:29:40
TOTTENHAM LEGEND GARY MABBUTT HAS FOOT EATEN BY RAT