Ankle Injuries/Sprains
An ankle sprain may relate to ligament damage to the medial (inside), lateral (outside) or syndesmosis ('high ankle sprain') of the ankle. 
Sprains result from high forces at the end range of motion of a joint, putting high levels of load through the ligaments to resist these forces.
Different sports will carry higher risk for some injuries. 
Symptoms
Pain on weightbearing and when pain started

Swelling/bruising 

Pain on palpation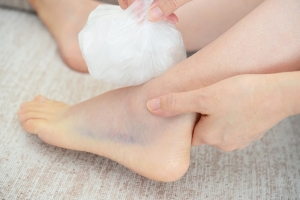 Treatment
RICE (Rest, ice, compress and elevate) for the first 24 hours 

Medical imaging may be required to investigate and rule out other injuries such as a fracture

Offloading

Taping

Ankle braces

Moonboot/post-op shoe

Orthotics

Activity modification
If in doubt please call us today for an appointment with one of our podiatrists on 5223 1531
THIS INFORMATION IS FOR EDUCATIONAL PURPOSES ONLY AND IS NOT INTENDED TO REPLACE PROFESSIONAL PODIATRIC ADVICE. TREATMENT WILL VARY BETWEEN INDIVIDUALS DEPENDING UPON YOUR DIAGNOSIS AND PRESENTING COMPLAINT. AN ACCURATE DIAGNOSIS CAN ONLY BE MADE FOLLOWING PERSONAL CONSULTATION WITH A PODIATRIST.
https://totalcarepodiatry.com.au/wp-content/uploads/2020/09/images-31.jpeg
183
275
Total Care Podiatry
https://totalcarepodiatry.com.au/wp-content/uploads/2023/03/logo-dark-300x174.jpeg
Total Care Podiatry
2020-09-03 11:29:47
2020-09-03 11:35:13
ANKLE INJURIES/SPRAINS – check out our latest blog for treatment recommendations