The Effects of Menopause on the Feet
As we know, predominantly the function of Menopause in women is to reduce oestrogen levels. Menopause and particularly the decline in Oestrogen hormone levels does promote a few effects on the feet that you may not know! It helps to have consolation that you are not alone if you are starting to see some uncomfortable changes to your feet, many women out there suffer a range of effects, of which the following are merely a summary of common foot changes. 
Decline in Oestrogen can cause:
General Changes to the feet
Reduction in ability for skin to retain moisture
When the feet lose their ability to retain moisture in the skin layers, skin obviously becomes drier. However, when skin becomes drier it is more likely for callouses to form. Callous, also known as Hyperkeratosis (as it sounds literally- hyper production of keratin cells) is a lesion of hardened dead skin cells pushed to the outer layer of skin, forming a thickening in areas of the foot prone to pressure due to an over production of keratin. This is a protective mechanism of the skin! So if you have callous, that may not be the root cause of pressure to that area of the foot. 
If you are concerned about your skin getting drier or pressure or callous areas and are looking for advice, we have our Free Family Foot Check clinic day this Friday July 9th, contact our clinic to make a booking!
Reduction in foot temperature at the extremities
Menopause is also commonly known to cause symptoms of cold feet! The key to keep your feet warm through a chilly coastal winter is to ensure a woolen sock or woolen blend for maximum insulation and get any concerns about circulation addressed.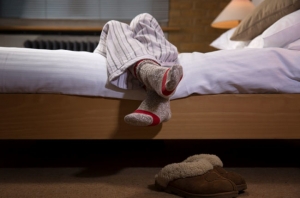 Water retention
Although not a prevalent and obvious feature of menopause, water retention due to hormonal changes can cause swelling of the feet. So don't be too alarmed if this happens as it can simply be a Menopausal feature as opposed to a more serious issue with your vascular circulation. If the swelling is persistent or presents with pain however, consult your doctors and Podiatrist for further assessment. 
If you are experiencing pain or discomfort, please call us today for an appointment on 5223 1531
THIS INFORMATION IS FOR EDUCATIONAL PURPOSES ONLY AND IS NOT INTENDED TO REPLACE PROFESSIONAL PODIATRIC ADVICE. TREATMENT WILL VARY BETWEEN INDIVIDUALS DEPENDING UPON YOUR DIAGNOSIS AND PRESENTING COMPLAINT. AN ACCURATE DIAGNOSIS CAN ONLY BE MADE FOLLOWING PERSONAL CONSULTATION WITH A PODIATRIST.
https://totalcarepodiatry.com.au/wp-content/uploads/2021/07/meno.jpg
320
480
Total Care Podiatry
https://totalcarepodiatry.com.au/wp-content/uploads/2023/03/logo-dark-300x174.jpeg
Total Care Podiatry
2021-07-06 09:30:10
2021-06-23 15:40:31
THE EFFECTS OF MENOPAUSE ON THE FEET