Corns and Callus
Callus is the thickening of the skin on the hands and feet. On the feet, callus forms as a reaction from repeated high areas of pressure. This mechanism is to protect the skin from breaking down. Over time however this may lead to discomfort and bruising around the callus.
Corns are similar to callus but they mostly form over joints where there is a focused centre to the pressure. Due to this pressure, the callus forms a nucleus at this location which can become sensitive and painful.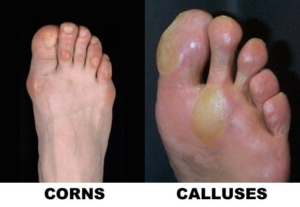 Podiatrist can 'shave' down the callus and remove the painful centre of the corns.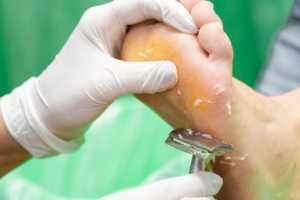 They may also recommend an offloading device to reduce the pressure at those locations.
This can be achieved through:
Taping

Orthotics

Foam or gel pads

Toe sleeves
#toesleeves
If you are experiencing pain or discomfort, please call us today for an appointment on 5223 1531
THIS INFORMATION IS FOR EDUCATIONAL PURPOSES ONLY AND IS NOT INTENDED TO REPLACE PROFESSIONAL PODIATRIC ADVICE. TREATMENT WILL VARY BETWEEN INDIVIDUALS DEPENDING UPON YOUR DIAGNOSIS AND PRESENTING COMPLAINT. AN ACCURATE DIAGNOSIS CAN ONLY BE MADE FOLLOWING PERSONAL CONSULTATION WITH A PODIATRIST.
https://totalcarepodiatry.com.au/wp-content/uploads/2020/10/corn-vs-calluses-1-1.png
956
733
Total Care Podiatry
https://totalcarepodiatry.com.au/wp-content/uploads/2023/03/logo-dark-300x174.jpeg
Total Care Podiatry
2020-10-15 09:49:59
2020-10-15 09:49:59
CORNS AND CALLUS – what are they and treatment