Children's Injured Feet
Problems causing injury to paediatric feet are often correlated with the maturity level of bone development and can be categorized based on the age of your child. 
The following may predispose a child to a gradually developed injury: 
Congenital anomalies

Variation in development

Bone maturation

Lower leg alignment 
… but otherwise, given the nature of children with high physical activity levels, acute injury to the foot can occur.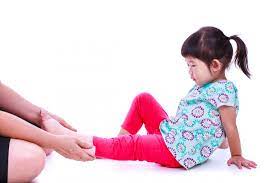 What does pain/injury look like, sometimes if subtle in a child?
It is important to be aware of the difference in pain presentation between older and younger children. 
Toddlers and young children: a child may limp, tire easily or refuse to walk or weightbear due to pain or injury. 
Older children and adolescents: their ability to compensate or isolate the pain may be better so injuries may go along unnoticed for a longer period. 
Acute vs Developmental Injury
Acute injuries are more likely in children (the younger they are) to result in stress reactions or fractures to the bone and often at the growth plate, rather than ligamentous strain or injury due to the fact children are undergoing stages of bone maturation as they develop into early adolescence and have relatively stronger ligaments than adults. 
Growth Phases
If your child is noticeably fatiguing or lagging behind other children, it is important to get an understanding of what may be the cause, and a Podiatric initial assessment can be a great starting point, to rule out any biomechanical insufficiences or growth abnormalities that for any reason haven't been picked up on.  
When children go through growth phases, muscles can become fatigued easily as they can tug at the ends of the bone as the bone lengthens and grows; resulting in discomfort and fatigue not unlike the traditionally known "growing pains". 
Common Paediatric specific injuries to the foot include: 
Sever's Disease (Apophysitis of insertion of Achilles tendon into Calcaneus/heel bone)– Age: 7-14
-Commonly known as children's heel pain-pain at the back of the heel towards the bottom, associated with children experiencing growth phases. 
Osgood Schlatter's (Apophysitis of insertion of Patellar Ligament into Tibial tuberosity)
Age: Ages 10-14
-Painful lump growth just below the kneecap, associated with children experiencing growth phases but more common in children playing sports involving running and jumping. 
Juvenile Idiopathic Arthritis (JIA) 
Age: Anywhere from 6 months to 16 years of age
-Joint pain, stiffness and inflammation or region warmth most commonly affecting the Ankle Joint as well as other joints in the body. 
Osteochrondritis Dissecans (OCD)
Age: Children & Adolescents 
-Often affecting the ankle after an ankle sprain or injury where a reduction in blood supply to the bone region affected causes a small fracture. The fragment of bone may remain attached or become detached. 
Sesamoiditis or Sesamoid Pathology
-Pain under the ball of the big toe joint which can be due to inflammation of the two sesamoid bones (small pebble sized bones situated under the metatarsal head that allow the gliding effect of the tendon of the muscle that flexes the big toe downward). 
-A common sporting injury in young athletes who push off the ball of the foot such as in jumping sports, ballet or karate. 
A reminder, Total Care Podiatry has a monthly free Paediatric Screening clinic where your Podiatrist will run through a free assessment to check on developmental norms in your child. We ask that to book into this clinic, a small donation be made to Kids Plus foundation upon attending. Kids Plus offers programs that include early treatment and specific intervention strategies to improve children's abilities across a range of developmental areas. 
If you are experiencing pain or discomfort, please call us today for an appointment on 5223 1531
THIS INFORMATION IS FOR EDUCATIONAL PURPOSES ONLY AND IS NOT INTENDED TO REPLACE PROFESSIONAL PODIATRIC ADVICE. TREATMENT WILL VARY BETWEEN INDIVIDUALS DEPENDING UPON YOUR DIAGNOSIS AND PRESENTING COMPLAINT. AN ACCURATE DIAGNOSIS CAN ONLY BE MADE FOLLOWING PERSONAL CONSULTATION WITH A PODIATRIST.
Some information from today's blog obtained from: https://www.ncbi.nlm.nih.gov/pmc/articles/PMC2323000/
https://totalcarepodiatry.com.au/wp-content/uploads/2021/06/injured-feet-2.jpg
392
574
Total Care Podiatry
https://totalcarepodiatry.com.au/wp-content/uploads/2023/03/logo-dark-300x174.jpeg
Total Care Podiatry
2021-06-16 16:14:58
2021-06-16 16:27:29
CHILDREN'S INJURED FEET