Achilles Tendinopathy
Tendinitis (inflammation), Tendinosis (degenerative) or Rupture
The Achilles tendon attaches the muscles of the calf to the calcaneus (heel bone). This tendon undergoes a lot of stress due to the amount of tension and forces it withstands. Over time, if the amount of stress to this tendon is too great, it may lead to an injury to the area and pain to develop. Most commonly, there will be a single event or injury that will cause the pain to start.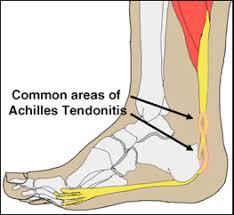 Symptoms
May have started from an event/injury

Pain on movement or palpation

Swelling of the ankle

Bruising in the area
When injured, treatment of the Achilles tendon involves progressively loading the tissue as it best reacts to load. Repeated stimulation allows the tendon to properly heal and return to its ideal state
Treatment is tailored to each patient and their unique presentation
Treatment may include:
Surgery (if a rupture occurs)

Moonboot

Heel lifts

Exercise program

Activity modifications

THOR Laser

Taping

Orthotics

Footwear Recommendations

Activity Modification

If you are experiencing pain or discomfort, please call us today for an appointment on 5223 1531
THIS INFORMATION IS FOR EDUCATIONAL PURPOSES ONLY AND IS NOT INTENDED TO REPLACE PROFESSIONAL PODIATRIC ADVICE. TREATMENT WILL VARY BETWEEN INDIVIDUALS DEPENDING UPON YOUR DIAGNOSIS AND PRESENTING COMPLAINT. AN ACCURATE DIAGNOSIS CAN ONLY BE MADE FOLLOWING PERSONAL CONSULTATION WITH A PODIATRIST.
https://totalcarepodiatry.com.au/wp-content/uploads/2020/10/Achilles-1.jpg
199
254
Total Care Podiatry
https://totalcarepodiatry.com.au/wp-content/uploads/2023/03/logo-dark-300x174.jpeg
Total Care Podiatry
2020-10-21 20:14:30
2020-10-21 20:14:30
ACHILLES TENDINOPATHY – Who does it affect? Read our latest blog to find out more!