WARTS
Plantar warts or verrucae are caused by papillomavirus group (HPV). They are very contagious and enter the layers of the skin by a entry portal such as a break in the skin.
Presentation:
Skin lines or 'fingerprint pattern' moves around the lesion

May have multiple centres

The core may have bruising or haemorrhages at the base

Pain occurs with side to side squeezes

May have callous around the wart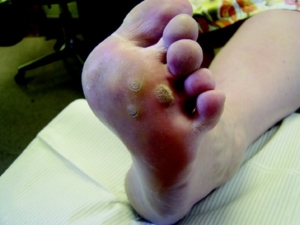 If you think you have a wart, it is particularly important to keep it covered while it is being treated to prevent it spreading to other members of the household. 
Treatment is customised and will require individual assessment. Most commonly, for a pain free wart, no treatment is required as body will most likely spontaneous remove it itself. If active treatment is required, it may include:
Offloading with paddings

Topical applications such as salicylic acid

Referral to GP for cryotherapy

Callous removal
If you are experiencing pain or discomfort, please call us today for an appointment on 5223 1531
THIS INFORMATION IS FOR EDUCATIONAL PURPOSES ONLY AND IS NOT INTENDED TO REPLACE PROFESSIONAL PODIATRIC ADVICE. TREATMENT WILL VARY BETWEEN INDIVIDUALS DEPENDING UPON YOUR DIAGNOSIS AND PRESENTING COMPLAINT. AN ACCURATE DIAGNOSIS CAN ONLY BE MADE FOLLOWING PERSONAL CONSULTATION WITH A PODIATRIST.
https://totalcarepodiatry.com.au/wp-content/uploads/2020/11/warts.jpg
265
460
Total Care Podiatry
https://totalcarepodiatry.com.au/wp-content/uploads/2023/03/logo-dark-300x174.jpeg
Total Care Podiatry
2021-03-17 09:30:12
2020-12-10 10:15:58
WARTS